Bibbulmun Track Drop Off / Munda Biddi Transfer Service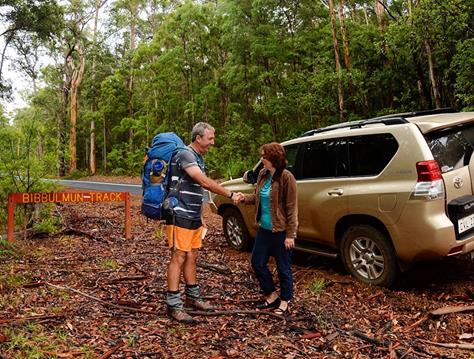 Duration: 2 Hours (approx.)
Location: Pemberton, WA
Product code: Bibb
Please contact us prior to booking this service - we do need to make sure we can assist - the price on your booking is a placeholder (please ask for a quote before you book). We ask guests to complete this form so the vehicle and driver is booked for the time they prefer and then you exist on our calendar. If you do not complete the booking then you are not on our calendar and not booked in.
~

The Bibbulmun Track travels from Kalamunda in the hills of Perth to Albany and passes right through Pemberton town
(opposite our office)
​More information on the Bibbulmun Track is available on the
Bibbulmun Track
Foundations Website.
​We offer hikers and day walkers an opportunity to get onto the track in our local area and are licensed by Transport and Parks in order to do so. We offer transport from Donnelly River Mill (Wheatley) to south of Northcliffe.
​Tracks and walks start at $50 for a half day walk from Pemberton for up to 4 people. ​Bookings are essential so please phone in advance to book your track transfer.
​If you feel like you want the whole box and dice - we are Pemberton's Bibbulmun Track Foundation licensed Transport operator
and have been included in their packages.
​We are able to pick up and drop off daily; from 5km to 40km walk options so you can choose to stay in one of Pemberton's fantastic accommodation places.

​To Book - this site enables you to reserve the transfer - however we still need to discuss the time, location and price with you, and this does need to be quoted first to make sure we are available.
So please call or email us - you will be required to complete the attached form once your booking is confirmed.

​Proud to be associated with the Bibbulmun Track since 2000.